Getting more out of your blogging efforts means creating a clear keyword strategy that attracts prospects to your blog. We explain how to get started and improve your SEO and customer engagement through blogging.
When blogs first rose to popularity a couple of decades ago, people subscribed to them through RSS feeds. Today, most users find blogs via search engines. It's more a process of stumbling upon content that answers the consumer's questions than it is about getting regular blog subscribers, though of course you still want that too.
The best way to help consumers stumble upon your content is through building a blogging keyword strategy. If you've read anything about SEO, you're probably aware of the role that keywords play in search engine optimization. But we'll explain specifically how to outline keywords and build dynamic, high-performing blogs around those keywords.
How Does Keyword Strategy Alter Blogging?
When researching keywords, you're really researching searchers' questions. It's not just about a word but a phrase or a question. When you build your blogs around these queries, you're now answering your customers' questions before they ever reach out to you.
In contrast, your previous blogs might have been about topics you assumed were important or that spoke about personal experiences. While these blogs are often interesting for existing customers, they don't normally do a lot to draw in new prospects or help mitigate a customer's concerns about purchasing your products or services.
That's not to say that you have to avoid all topics that do not relate to a customer question. Sometimes these other types of content are great for earning social media engagement or encouraging email opens. Different blogs can serve various strategies.
But a keyword strategy helps you find prospects when they're looking for information related to what you have to offer.
How Do I Find Keywords?
You can start with free tools that help you discover keywords and questions related to those keywords. Start by putting your company's primary keyword into Google Keyword Planner under Discover New Keywords.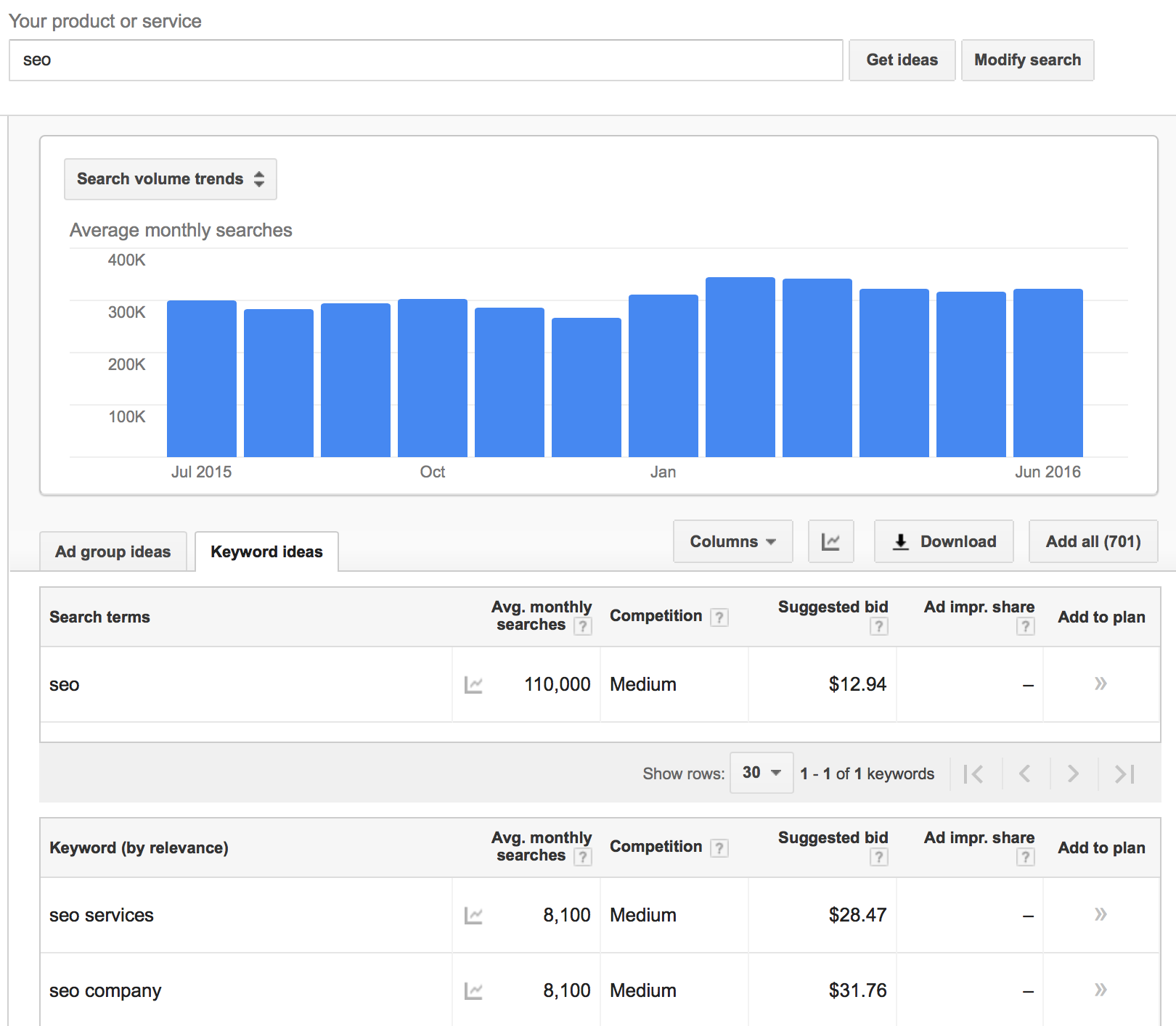 For example, if I start with a term as generic as "shoes," Google turns up results for Nike Air Force 1, Jordan 1, Nike Shoes, Sneakers, Ugg Slippers and much more. You can use these results to get more targeted in your topic and learn more about how a customer might look for your products.
Once you have a set of keywords related to your primary offering, you can head to Answer the Public to understand the questions that people might ask related to your keywords.
For the broad term shoes, you'll get results like:
Will shoes stretch?

What shoes to wear with mom jeans?

When shoes hurt your feet

Which shoes are made in the USA?

Why shoes rub heel?

Which shoes make you taller?

How shoes should fit

Can shoes be washed in a washing machine?
Do you see the enormous bank of blog material you can pull from a simple query related to your products and services?
Not Good at Writing?
We know how to write so that leads find and contact you.
Another way to learn search queries related to your keywords is to do a Google search for your primary keywords. On the results page, scroll down to the people also ask box. For the simple search "shoes" we got these results.
What are the best online shoe sites?
What are the top 10 shoes?
What are some of the most comfortable shoes?
Which is the best shoes in the world?
Now you have even more blog topics based on search queries your customers are actually completing.
Building a Content Calendar
Now you have to select the questions and search queries that closely relate to your product or service. For example, you might be a shoe insole company, which means some topics above wouldn't relate to your business or draw in customers looking for a product or service you offer.
Sift through the many results you've gathered in the early research stage to build out a content calendar for your blogs. Think about how blogs will relate to one another and write the most relevant and timely ones first. That way, you can link back to it for future blogs to further enhance your SEO strategy.
Blogging Strategy Agency
Blogging is time-consuming, so if your brand is choosing to blog, you want it to be worthwhile. Put your best foot forward by working with a team of blogging experts. The New Light Digital team has SEO expertise and offers outstanding blog strategy and writing services.
To learn more about how we can help you get more out of your content marketing, schedule a free consultation.
Further Reading: