Websites for construction companies can help bring in leads, describe services and showcase differentiators compared to your competitors.
While websites are a must-have for most businesses, many construction companies have opted for simpler options, such as online profiles on websites like HomeAdvisor and Yelp or a Facebook business page where people can message the company.
Slowly, the industry is catching up and realizing the power of a website to interact with potential customers and earn their business.
As you work toward creating your construction company website or revamping it, there are four elements you should keep in mind that will make for an outstanding website.
These elements will help ensure that you convert visitors into prospects with proper lead generation tactics.
4 Essential Elements of Websites for Construction Companies
As a contractor or business owner, you probably don't think a lot about the websites that you visit or the actions you take once you're there. That makes the process of developing a website that much more intimidating and daunting.
But relax, with the right resources and knowledge of good websites, you can create an outstanding website that delivers the results you need. Your website does not need to be complicated or have dozens of pages. In fact, keeping it simple can help guide your visitors to the content you want them to see.
These are the 4 essential elements of construction company websites.
Looking for a Marketing Agency?
Get measurable results on your investment.
1. Develop Great Content for the Essential Pages
The first step in developing a great website is to outline what information absolutely needs to be on the site. Take a moment to outline your website's pages (also known as a sitemap). For most construction companies, your sitemap will look something like this.
Homepage
Services
About Us
Our Projects
Blog
Contact Us
Now that you know what elements will be on your website, you're ready to start building out great content.
You might want to hire a copywriter to draft your content but having an outline can ensure you cover the essential information about your company. Here are some essential aspects you should include in your outline for each of these pages.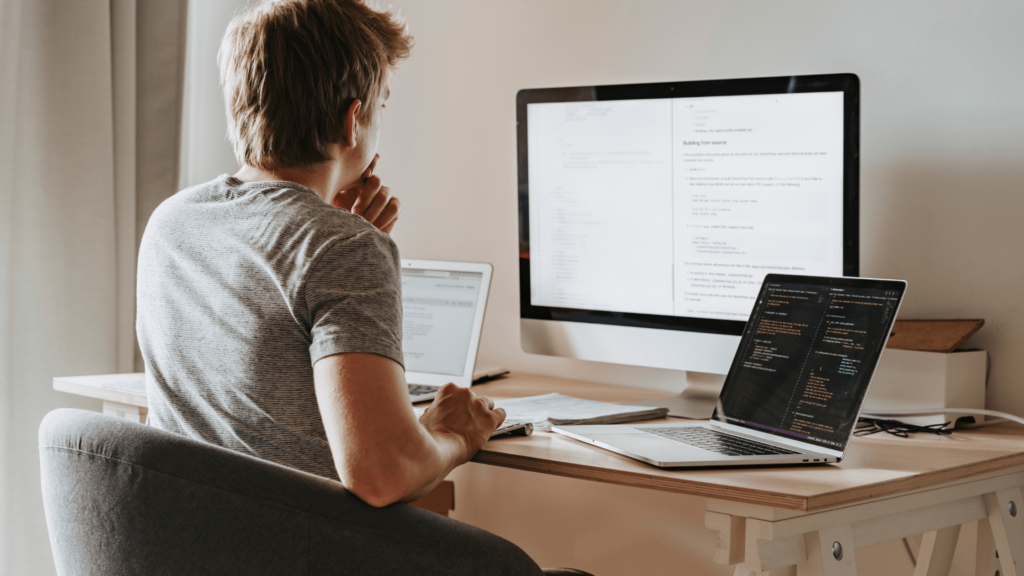 Homepage
You have just a couple of seconds to draw in your reader here. Use your content wisely to convince them to stay and learn more about your company. Here are some of the aspects you want to include in your outline.
A quick overview of your services. This can link out to your services page, but at a glance, website visitors need to know what you do.
Describe who you provide services for. If you contract mostly with other businesses to do commercial work, you might want to make that clear for the average consumer who lands on your website.
Explain what makes your business unique. Do you have special payment arrangements to help your customers complete the work they need/want while still saving the necessary funds for it? What about warranties? Can you describe the experience levels of your team to showcase the impressive workmanship? Do your materials stand out in some way? Without specifically naming your competitors, you can state what you do that is different.
Describe the elements that make your business trustworthy. Bringing in customer testimonials and ratings from third-party websites can be excellent to use here.
Make it clear what your website visitors should do next. Completing a "get a quote" form or other contact forms can be beneficial for making these visitors prospects.
Services
Your services pages should describe what you provide your customers. But they also need to explain the problems that your customers might be facing and how you help eliminate those problems.
While your visitors might have landed on your website looking for the company that can complete their addition to their home, they might not know that you also have a design team to help the customer bring their vision to life.
Explaining in detail what you do for your customers can make a big difference in making them feel comfortable and confident in reaching out to take the next step.
About Us
The about us page is less about your company history and more about those elements that make your company unique and attractive to your customers. Focus on your differentiators and showcase that you know what your customers need from a construction company.
Include third-party reviews here as well to reinforce what you're communicating about your company. If you think customers might have concerns about hiring you, address those as well to ensure your customers have no barriers to reaching out to you.
Our Projects
More than likely, this page will be mostly visual. But a little bit of a story behind your recent projects will also show how you problem-solve for your customers. The finished product showcases that you know what you're doing. But the story behind it shows how you serve your customers in a unique way and with outstanding service.
For example, building custom homes for people is deeply personal. These homes are likely what the customer has been dreaming of for years. And sometimes, part of the way through they want to make an adjustment to provide additional, practical living space. Showing that you can pivot to make those dreams a reality can resonate with potential customers.
Or demonstrating how you can meet short turnaround times to match commercial company expectations and meet deadlines effectively can be exactly what a business owner wants to hear. That way they know their livelihood will only be disrupted for a set time.
Blog
In today's online marketplace, blogs are pretty essential. This is a way of developing new website content regularly and aiding in building up your SEO. It also provides a way to stay in touch with customers and prospects because you can send out these blog articles. That blog article can serve as a gentle reminder of your company in case the customer has new needs that have arisen for their home or business.
You don't need a full blogging plan now. But if you include a blog on your website, you can't just leave it that way long-term. Committing to regular blogging is an essential element of including this area on your website. Dormant blogs can do more harm than good.
Contact Us
Contact us pages generally don't have much content, and that's perfectly fine. The goal of these pages is to provide essential details to your customers to get them to reach out to you. Make sure that this page includes the following information.
Phone number
Email address
Physical address, if you have one
The cities or areas where you provide your services
Hours of operation
Contact us form that funnels to the right person in your business who can respond to these promptly
Links to your social media
2. Outstanding and Eye-catching Imagery
The final product of what you do is what you are selling. Yes, you're selling a service, but that service does result in a tangible good. To showcase how good you are at what you do, your website should include eye-catching imagery that details your projects.
You need high-quality images, which in some cases might mean hiring a professional photographer. Avoid stock photography on your website that could end up making it look cheesy and generic. And don't use photos of projects that you don't have the rights to. Even Google Earth images might not be free for commercial use.
If you don't currently have images of your projects, you might want to take some time to go back to your best clients and request to take photos of the completed project. Having photos of works in progress will also be helpful, but you can add those in as you work on new projects.
And don't forget to showcase your team. Sometimes companies are hesitant to do this or employees don't want to have their photos on the website. But this will help add a personal touch to your site that demonstrates further what makes you unique.
3. Clean, Navigable Design
Websites that are too cluttered or challenging to understand have high bounce rates. Your bounce rate indicates whether the user took an action on the page or navigated to another page of your website. High bounce rates clearly indicate that your website is not what your visitor was looking for.
You have to make it simple for them to find the information they came for and do so quickly. Website visitors have plenty of options when it comes to online experiences. You need to make your experience stand out to avoid having them go elsewhere for their needs.
The website menu bar is important. It needs to be simple and the options need clear and plain labeling to showcase what the user will get when they click on it. Don't get too cute with how you label your pages or your menu options. The goal is to show users at a glance where they should go next.
Too many pop-up boxes or complicated animation for scrolling effects can impact your website visitor's experience. Keep it simple, yet attractive.
Out-of-the-box templates from common website providers, like WordPress or Wix, are often very generic and will make it challenging to stand out. Plus, these templates often have extra HTML or CSS code that slows them down making website load times slow, which will challenge your ability to rank for SEO.
Professional website design will aid in making your website look outstanding and unique while also ensuring it performs well.
4. Lead Generation Forms and Opportunities
The goal of a website is to attract and inform customers. So if you have no lead generation opportunities on your website, your online presence can't do what it's designed to do for you.
Well-placed contact opportunities will aid in ensuring your customers don't just visit your website and then leave. Consider these lead generation opportunities.
Contact us form at the bottom of every page
Newsletter sign up in your website footer
Pop-up box that provides a special offer if the user inputs their contact information. The box should appear after the user has been on the page for a set period when the user has had time to learn more about who you are.
Well-placed calls to action in the body of each webpage that invite the user to stop scrolling and take action toward becoming a customer.
Clear, easy-to-find phone number and email address for a more personal interaction with your business.
A contact us page that is prominent in your website's navigation and footer
Building websites for construction companies does not need to be complicated. With these four essential elements, you can begin attracting customers and increasing your online conversion rates.
Ready to build an effective website that attracts and retains clients? Contact New Light Digital now for a full online marketing strategy, including websites, email marketing, social media, reputation management, SEO and more.
Further reading: