Videos can work wonders for boosting your SEO. But like all SEO strategies, you must know what you're doing to get the most out of your efforts.
Optimizing video content will make it easier for users to find on YouTube as well as making it a more valuable part of your overall website ranking strategy. Here's what you should be doing to get the most out of your video content.
Optimizing Video Content for Search Engines and YouTube
Many tactics you'll engage in to optimize your video content mirror what you do with your website to help it rank well. But in addition to conducting keyword research and properly using those keywords in your video optimization, you'll also need to brush up on YouTube rules and guidelines to help nudge your video to the top of results.
1. Do Keyword Research
Whether it's your corporate website or your LinkedIn profile, appropriate keyword use matters. Google owns YouTube and puts a great deal of weight on delivering video content to answer search queries when relevant content exists.
Take your time in learning more about how people search for answers to common questions your video can answer. Then make sure that the keyword exists in the video's:
Just make sure the keywords are relevant to your video. Search engines are exceedingly smart. They can now understand video content and whether the keywords properly relate or you're engaging in keyword stuffing.
When picking your keywords, look for those with the greatest reach potential. That doesn't always mean using the keywords with the largest search volumes. Instead, look to keywords with a balance of search volume and low competition. The lower the competition, the easier it will be to rank for that keyword, and quickly.
Consider long-tail keywords, or full phrases or questions. While very specific, these keywords are generally easier to target because the big competitors care more about the keywords with search volumes in the hundreds of thousands.
2. Analyze Channel Statistics
Learn more about the people who are watching your videos. Review your channel statistics to better understand habits and interests. Look for your top-performing videos to see if there are spinoffs you can create based on that content that would give the user further viewing.
While you might assume that your primary audience segment is the most likely to find and enjoy your video content, you might discover that it is a different segment. Knowing this can help you tailor your content more efficiently.
3. Write Enticing Video Titles
Unless you're targeting a very specific long-tail keyword, your video title will include more than just your target keyword. The title should be enticing or take advantage of the fact that the average consumer has a fear of missing out.
Just like a headline on a blog article, your video title should encourage a click so that your audience feels compelled to learn more.
And while you want your title to engage your reader, it still needs to get to the point. Long titles generally perform worse than short titles. The best-ranking videos are generally 47-48-characters despite YouTube allowing for up to 100 characters.
Video titles serve three main purposes:
Telling the user what the video is about
Encouraging the user to click to view the video
Winning over YouTube and Google's algorithms to show in search results
You need to balance these purposes when writing your titles to see the best results.
4. Use Video Tags
Don't overdo it with your video tags, but don't ignore this valuable part of your optimization either. On YouTube, using tags is an essential element of ensuring your video ranks well both on the platform and within search engine results.
YouTube uses tags to help identify key people within the video and serve up relevant related videos. If you want to be a related video on other content, you must include tags.
Tags can include up to 120 characters. Based on the highest-ranking videos on YouTube though, your best chance at ranking well is to include 6-8 words in your tags. And you want those terms to be hyper-connected to the content within the video.
Looking for a Marketing Agency?
Get measurable results on your investment.
5. Tell the User What They'll See in the Video Using the Description Section
When uploading a video to YouTube, you must include a description. This tells the potential viewer more about your video and can help persuade them to watch or continue watching the content.
Write descriptions that clearly describe the video, while also including a few keywords. You have up to 5,000 characters to describe your video, making this the most freeing space available within your YouTube video upload process.
The description serves two purposes.
Enticing the reader to view the video because it shows as part of the search results.
Increasing video engagement on the platform because YouTube rewards well-described videos with views because the algorithm can better suggest the video in related content and search results.
Your description text should include a call to action (CTA) to get the user to take the next step with your company. This might be encouraging a subscription or visiting a relevant page on your website.
For longer videos, include time stamps to tell the user where they can find various types of content. Use hashtags to help users find the videos, but know that when you have more than 15 hashtags, YouTube will ignore them.
6. Transcribe and Caption Your Video
Although Google is incredibly intelligent, it still struggles to read images and videos despite its talent for understanding verbal language and written text.
To help YouTube and those with disabilities understand your video content, include transcriptions and captions on your videos.
Transcriptions can also help users consume your content in a variety of ways. If they are at work and don't want to turn on the sound, they can read along while watching the video.
You might include some transcript text in the video's description. This will help the user decide whether to continue watching or if they want to skip ahead to another section.
7. Develop Long-form Content
The highest-ranking videos are generally just shy of 12 minutes. Investing in longer videos can help your content become one of those high-ranking options. And if you use chapters to make it easier for users to skip around, Google and YouTube can also use those as clips to deliver answers to the searcher in the specific section of your longer video.
Longer content satisfies searchers seeking in-depth, complete content while also helping to answer shorter queries with good transcription and chapters.
That doesn't mean you should use tons of filler content in your videos. Instead, keep the content relevant but strive to answer questions completely.
8. Promote Your Videos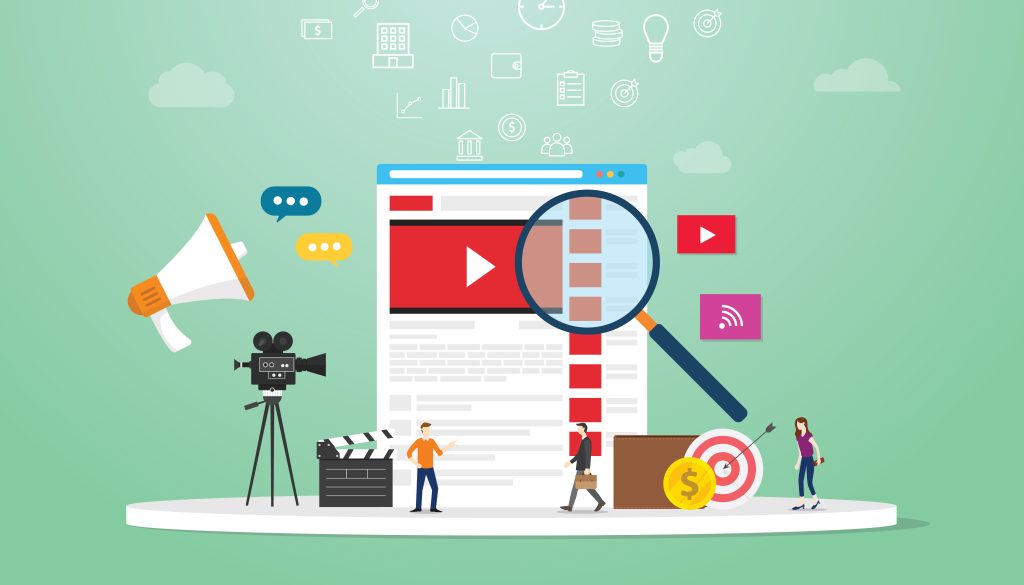 Video content serves many purposes. You can enhance your blog content by including a relevant video, share the video across social media platforms, send it out in emails and use it in promotions.
The more views and engagement your videos have, the more weight YouTube will give them. Even after you've optimized your video content, you need to find ways to drive people to that content to show YouTube and Google just how valuable that content is.
But as you look for ways to maximize your video performance, don't forget that context matters. Only use videos in relevant places because this will ensure it is valuable content for the user and that you'll get the maximum engagement from it.
9. Customize Your Video Thumbnails
Another crucial aspect of encouraging clicks and engagement on your video content is the thumbnail. Awkward thumbnails of people mid-sentence or random slides from the video might not describe the content well.
A good thumbnail helps create a visual in the viewer's mind of what they'll be learning about from your content. And this visual can increase traffic and watch times.
10. Build End Screens with Strong Calls to Action
The final thumbnail on your video is just as important as the main thumbnail. It can dictate whether you see any traction from the video outside of it just becoming another statistic in your YouTube dashboard.
Ultimately, video views won't earn you new business. But users who share their email addresses, follow you on social media or otherwise engage with your business can become leads, which allows you to tailor a lead nurture program around their interests and eventually convert them into customers.
Optimize Your YouTube Channel as Part of Your SEO Strategy
Videos can be a crucial element in a good SEO strategy. Optimizing that content can help you take your SEO strategy from good to great. Work with the experts at New Light Digital to start seeing greater traction with your content. Schedule your free consultation now.
Further reading: