At times, it can feel like all you're doing with social media is following a posting schedule and seeing few results. And if you aren't reviewing analytics and updating your strategy regularly, social media might have few benefits. But with the right strategy and expertise, you can see impactful, meaningful results for your business.
To move from a marketing task you feel like you have to do to one that boosts your bottom line, here are a dozen ways social media benefits your business.
1. You Can Reach a Large Audience
Social media is popular and has 4.62 billion users. That means you can reach half the world's population on that marketing channel alone. Although every user account is not active or might have periods where the user is not engaged, the sheer volume of your target audience that you can reach makes social media a great option for introductions to potential customers.
2. You Can Use Each Network to Its Advantages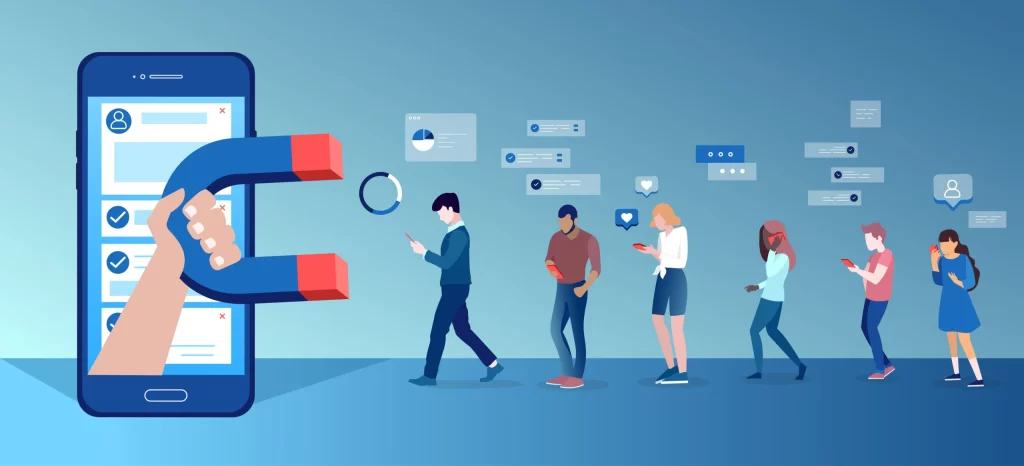 Facebook, TikTok, Twitter, Pinterest, Instagram, and LinkedIn – each has its own set of use cases and benefits. Some businesses only look to join the largest networks or the most popular ones without first focusing on who their audience is and what they are looking for.
But if you use social media correctly, you can take advantage of the different strengths of each platform, such as storytelling, video, audience demographics, saturation, etc. Some social networks specifically help you connect with younger users, while others are better for reaching middle-aged or older adults.
3. Social Media Enables Fast Connections and Communication
When you're regularly monitoring social media and connecting with your audience in a meaningful way there, you'll find it's a great way to communicate with your target audience.
Your customers can ask questions about products, services or the industry in comments and direct messages. It's easier than going out to your website and finding an email address, phone number or starting an online chat.
The goal of meaningful communication with your audience is to make it easy for them. Being in the places where they are already spending time can help you do that.
4. It Supports Your Brand Image
Social media provides a way to showcase your brand style and voice in a personal and real way. And you can build out your brand image and style constantly using tools like video announcements, blogs, or social media stories.
For example, some brands find it helpful to start a separate account just for their customer service needs. That way it's clear that customers can use that communication platform to reach you and you can dedicate a skilled and knowledgeable professional to that account to answer questions quickly. But having the account separate also allows the company to keep its personality and brand consistent on its main profile.
Cauți o agenție de marketing?
Obțineți rezultate măsurabile la investiția dvs.
5. Social Media Can Generate Website Traffic
Businesses of all types and sizes face the challenge of getting website visitors and putting them through the customer journey through the sales funnel. Along the way, potential customers need new content pieces and collateral to guide them in their journey. But how do you ensure they are getting these pieces at the right time?
By posting strategic links on social media pages, you can lead potential customers and customers to your website to begin taking them down the path of your sales funnel. This supports your organic search traffic and helps keep new visitors returning once you've built a relationship with them so that they are frequently reminded of your brand and its offering.
6. Shoppable Posts Reduce Friction in the Buying Process
Many social media platforms have added buttons and links to make it simpler for users to purchase from a brand directly from a social media post or profile. It eliminates the number of touchpoints required for a customer to go from shopping to finalizing a purchase.
You can make videos interactive by adding product links within the video. That way a user can see the product on a person instead of on a mannequin or in a still photo. And then the purchasing process will look just like it does on your corporate website, but through a pop-up window within the social platform itself.
7. You'll Gain Invaluable Customer Insights and Feedback
You might think you have a great product because it sells well. But you then never hear from customers who purchased it and wonder why they aren't coming back for more. Perhaps there is something in the process of using the product or service that doesn't work especially well or the customer experienced friction in the ordering or delivery process and you simply don't know about it.
But the great part about social media is that customers are extremely honest and willing to provide feedback through that platform. And customers will likely be unfiltered in what they say about you and your products on social media. While honest feedback might be hard to take at first, it will become invaluable as you learn how to take it and respond to it.
8. Social Listening Helps Uncover Deep Truths
Social media monitoring of your own page is just the start. You also want to use social listening tools to understand what people are saying about you, your industry, and your competitors on their own pages. This will be some of the most honest feedback you can find. Review brand mentions and conversations to learn more and make changes to your business to better meet the needs of your customers.
9. Learn About Your Competitors
Getting competitor insights can be challenging. While you can see their public website and order their products to get a better look, you won't know how their branding and personality affect customer retention until you dive in deeper.
Reviewing customer sentiments on social media will provide you insights into your competitors' customer service and support, which are almost as important as the products and services themselves.
You can also review the types of content your competitors are posting that are resonating with your target audience. Learn lessons from those viral posts to improve your interactions with your target audience.
10. User-generated Content Is Powerful
Although you can post stunning photos and videos of your product and its use cases, user-generated content is far more powerful. But you won't know that users are posting this content if you aren't on the social platforms listening for it.
Reposting content from your user base will help you show the value that you offer your customers and allow the customer voice to come through in your content in a way you can't do in other marketing channels.
11. Influencer Marketing Can Help You Reach the Perfect Audience
While user-generated content is helpful, so is influencer marketing. It can help you reach a new audience and expand your following. Influencers are people and pages with thousands of followers who share interests related to your products and services. They're often real people who customers relate to because they have shared interests. And customers tend to trust influencers because they are normal people.
12. It Provides an Opportunity for Storytelling
Perhaps one of the greatest strengths of social media is storytelling. Instead of salesy posts and content focused solely on advertising, you can use your social pages to tell your brand's story. While posting about an upcoming sale is important, so is talking about how others are using your products and services.
Make sure you aren't just posting links to buy products without telling stories. Because if so, you won't see as much impact and reap the benefits social media has to offer.
Building a Social Media Strategy that Works
New Light Digital follows trends and stays up to date on social media strategy so you don't have to. We share those trends on our blog. If you need a social media strategy that helps you reap these dozen benefits, schedule a free consultation with us now.
Further reading: