It's become commonplace to ask your phone for directions to the closest restaurant, spa or park. The convenience is incredible. But with it has come a challenge for marketers: optimizing for voice search SEO where the only search result that matters is the first one.
If you want your website to become the recommendation for Siri, Alexa or any of the other voice-activated devices out there, you'll need to take some time to re-evaluate your strategy.
What is Voice-activated Search?
Voice-activated search is any time a person asks a question instead of typing it into a search box. Today, you can ask your smart TV for recommendations or use a command to wake up the voice assistant on your smartphone.
One of the largest differences between voice search and written queries is that people ask them differently. The way we speak is different from the way we write. Because of that, voice search optimization differs from regular SEO.
For example, you might ask your digital assistant what the best food truck in your area is and where it is parked today. Or you might ask it a simple question like "When is the Italian Festival in Columbus, Ohio."
The device will then verbally respond with the top search result answer. Or if the device has a screen, such as in the case of a smartphone or smart TV, it might show the answer on the screen while reading a short snippet from it.
Why Marketers Need to Consider Optimizing for Voice Search
Voice search is growing rapidly with about 40 percent of US internet users engaging with a voice assistant monthly. The primary voice search devices are smartphones and smart speakers, which also continue to grow in number.
Just like written search terms, voice search is an opportunity to take advantage of organic search traffic to your website as smart devices look for answers to their owners' queries.
By targeting this traffic, you'll increase your website's SEO rankings and earn greater authority, which will increase your rankings on search engines for written queries.
Strategies for Optimizing for Voice-Activated Devices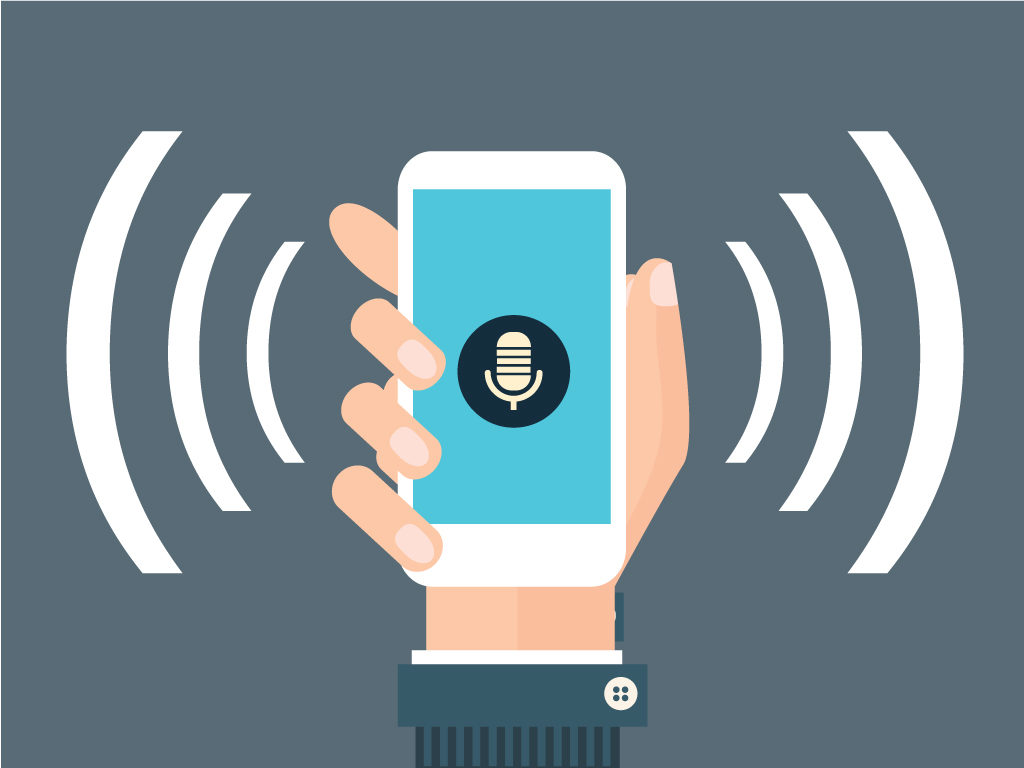 Now that you know why voice-activated search matters, you're ready to start considering ways to incorporate it into your SEO strategy. Here are seven tips for capitalizing on these search queries.
1. Optimize for Question and Long-tail Keywords
Given that it's fast and easy to speak, most people are more detailed in their voice searches than they are in written searches. Because of that, you should target more complete questions and long-tail keywords.
You'll then start capturing searchers who use voice-activated search or who are more thorough in their queries by using complete sentences or longer phrases.
A long-tail keyword is characterized by anything that contains three or more words. The intent for these keywords is generally high. Be sure that these keywords are closely related to your business to see the best results from targeting these keywords.
Cauți o agenție de marketing?
Obțineți rezultate măsurabile la investiția dvs.
When looking for question keywords, look for anything starting with the following words.
Who
What
When
Where
Why
How
Ensure that you answer these questions quickly in the text on a page and be concise in your answer. All information that follows is more for further reading or information for your searcher.
A good place to start with these keywords is to look at "related searches" on Google related to your business. FAQ sections are an excellent place to address these questions.
2. Keep it Conversational
If you're planning to be the topic of conversation between a voice searcher and their digital assistant, you need your content to be conversational. Run your content through a grammar checker, such as Grammarly, which will also help you understand its tone. Then you can make adjustments from there to make it less formal and more conversational.
One easy way to get started with conversational content is to use first and second-person pronouns, such as we and you. Another crucial conversational element is to avoid jargon, including technical language. And if you can, include some humor in your articles.
You don't have to dumb down your content or make it extremely casual to win with voice search. But you should write it in a similar way as you would speak it.
3. Focus on Local SEO
The primary questions that people ask their voice assistants have to do with local businesses. So if you're looking to take advantage of this traffic, you should also be focused on local SEO to reach potential customers nearby.
Many people conducting voice searches on a smartphone are on the go. They might be driving and unable to type at the moment or they might be out with friends and want to keep their digital interactions to a minimum.
When considering local SEO, start with a strong Google My Business profile. This will help Google pull together information about you online and is a strong tactic for showing up in local search results both written and spoken.
4. Work Toward Becoming the Featured Snippet
When voice assistants read off answers, they are often the results from the featured snippet related to a search term. These results are shown on Google above organic search results. In some cases, the content shows as a short paragraph while in others it's a bulleted or numbered list.
Virtual assistants read that snippet to answer queries but it's also a primary location where visual searchers' eyes go when reviewing results. But to be the featured snippet, you'll need to answer the query concisely and completely. Google is looking for the most complete, easy-to-read answer when choosing what will go in the featured snippet.
5. Include Schema Markup
Schema markup is structured data that you add to your website's HTML. It helps search engines better understand the content and provide the information to searchers. The schema generally includes valuable information about your business, such as hours, physical address, review, how to get in touch, etc.
While your visitors won't see this information, indexing bots do and can guide them to understand your content more fully. It helps with making your site more relevant to various searches, which could help you earn voice search results.
6. Review Your Mobile Optimization
Most websites now use mobile-first design. The hard part is, that as you make changes to your website, it could impact the mobile optimization. Take some time to review your mobile optimization to take advantage of the more than half of all global internet traffic that comes from mobile.
Plus, mobile users are the ones who commonly use voice search. Search engines put a great deal of weight and value in the mobile user experience. Be sure you're ready for that with a mobile-optimized site.
7. Check Your Site Speed
Whether you're looking for ways to ensure strong rankings for visual search or voice search, you'll need a fast website. If your website loads too slowly for the voice assistant to get its answer, it will just move on. Or you won't even show up high enough in results to be part of the voice assistant's decision set.
Your web pages should load in two seconds or less to ensure the best user experience. Google puts a great deal of weight on this metric as well. Use a website speed checker tool and regularly update your website to meet the standards.
Optimizing Your SEO for Visual and Verbal Search
Regardless of whether you're working to improve your visual or verbal search rankings, New Light Digital can help. Get your website ranking on page one results to build your organic traffic and start seeing ROI. Schedule your free consultation now.
Further reading: