Completing a website overhaul or complete redesign is exciting and provides a great sense of accomplishment at the end. But then as you return to operating your business and planning marketing campaigns, you might be left asking: now what?
A website designed for user experience is the first step in augmenting your online presence. But when you launch the new website, you aren't done. Now supporting work begins in helping customers find you.
Here are the essential next steps your company should be taking once you launch your new website.
What to Do After Launching a New Website
Once you've launched a new website, your work is not done. Instead, take these steps to increase your traffic and engage customers.
1. Learn How to Manage Your Website
The website is never complete. You can't launch a new website and expect that it will just sit out there and attract new customers.
You'll need to update content and images regularly to continue adapting your online presence to match your target audience. Or you might launch a new product or service and want to list it on your website.
Regardless, you need to know how to manage your website. That doesn't mean you need to take a website development course. But you do need to know the basics of how to navigate the back end of your website.
Take classes or watch online training videos to prepare for ongoing changes or publish blog content on your website.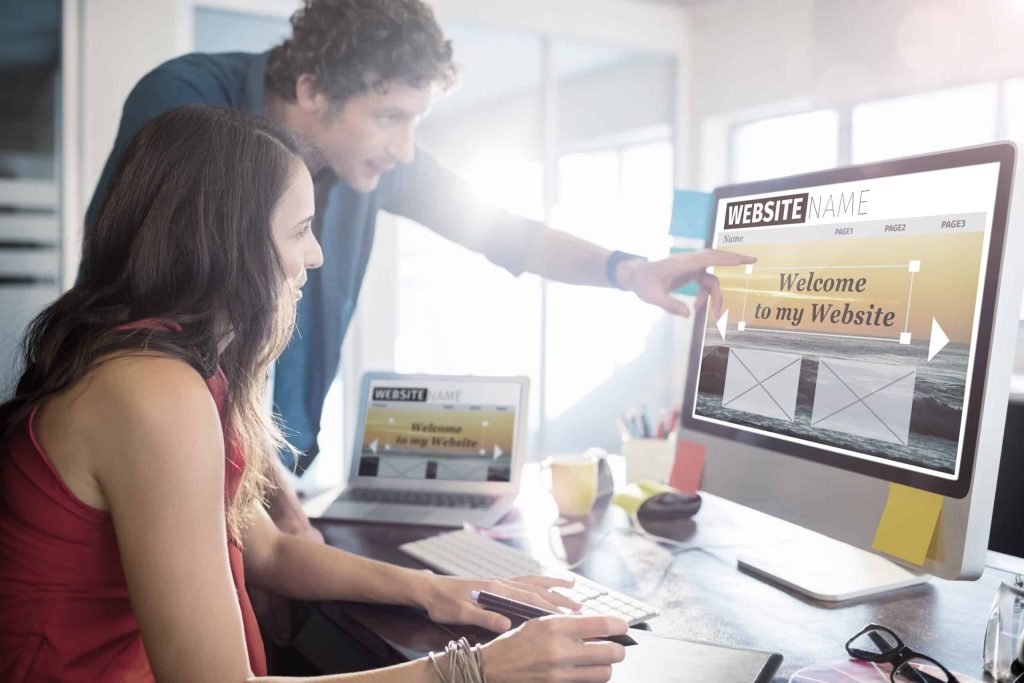 2. Review Your SEO Research and Build a Content Marketing Plan
The SEO research you completed as part of your new website is still relevant. Now is the time to resurface that research to plan your content marketing. Videos, infographics, podcasts, blogs, and more will all help elevate your website and drive valuable traffic to it.
Look for recurring themes within the keywords and build them into what you call "keyword clusters." For example, some keywords that might be relevant to this blog include:
New website launch
Launching a new website
New website marketing plan
How to market a new website
What's next after launching a new website?
These keywords would be separate from keywords related to building a new website. And likewise, website management keywords would fall in their keyword cluster as well.
Once you've created clusters, start planning how you'll develop content around these topics. Document the keywords you've optimized your content for to avoid cannibalizing that content with new content that targets that same keyword in the future.
You should publish new blog content at least monthly. But publishing more often could increase your traffic and website leads. If you're early in your content marketing plan, you might also publish more often to fill out your marketing automation plans to build out content within the various phases of the customer buying journey.
Companies with a solid base of content can then test various publishing schedules to see what delivers the best results. One important consideration for your publishing schedule is to only publish as often as you have time to properly distribute the content. You can't just publish content and expect SEO to work miracles in bringing customers to you. Distributing content via email, social media, RSS feeds and more can ensure you get the most value from your efforts.
3. Build Marketing Automation Based on the Customer Buying Journey
After launching the main framework of your website, consider conversion opportunities on each page. This might be a simple email sign-up or a targeted downloadable piece of content related to the product, service, or topic on that page.
Consider how these forms can feed into your marketing automation software and trigger actions based on what you know about your prospects and customers. Connecting marketing automation to your website augments your static content to personalize it to the user, their needs, and their interests.
Cauți o agenție de marketing?
Obțineți rezultate măsurabile la investiția dvs.
There are three main phases in the customer buying journey:
Awareness
Consideration
Decision
Plan what content relates best to these various buying journey phases. For example, you'll need content that answers common questions customers face early in the phase of searching for answers related to common challenges or pain points they face.
4. Set Analytics Goals
You won't know how successful your website is until you set targets for traffic, conversion rates, and lead volume each month. Ensure you have analytics software set up on your website and configure it based on what a conversion is for your website.
As you review your analytics each month, consider monitoring these statistics.
Total traffic
Main traffic sources (i.e., referrals from social media, third-party leads, etc.)
How long are users staying on your website?
What pages have the highest bounce rate?
Understanding these statistics will tell you your areas of opportunity. For example, if most of your bounces come from one specific page, it's a sign you don't have a strong or effective call to action on that page.
5. Check Business Listings for Consistency
Your website is just one element of your online presence. Listing your website on sites like Google My Business, TripAdvisor, Yelp, Angi, HomeAdvisor, Healthgrades, etc., will increase your website's visibility.
The key when listing your company on third-party websites is that the information is consistent. For example, your address should spell out "drive" or abbreviate it on all websites. You don't want to abbreviate it sometimes and spell it out on others. Or if you include LLC or Inc. in your company name, be sure that it is present everywhere or these third-party websites might view them as different entries.
Edit and update listings accordingly. In some cases, this is a lengthy process because it involves claiming the business and verifying that you are the owner. The time is well spent and worth it.
6. Build Valuable Backlinks
When it comes to backlinks, quality wins over quantity every day. Don't buy a package from someone claiming to be an expert who will get you 1,000 new links in month one of a contract. If it sounds too good to be true, it likely is.
Instead, here are some smart ways of building high-quality, valuable links.
Publish research
Generate thought leadership worth linking to
Partner with other local businesses to exchange relevant links
Investigate quality guest blogging opportunities and don't be afraid to pay for them
7. Consider Your Online Reputation
Reputation management is an often overlooked aspect of building an online presence. But it is valuable in showing you care about your customers and can help attract new prospects.
Allow customers to leave reviews about your company and its products. Using third-party websites can add credibility to your reviews. But before you invest in a third-party website, read this blog: Not Seeing Results from Yelp, Angi or HomeAdvisor Ads? Here's Why and an Alternative Option
Reputation management helps you form the narrative around your company. Most shoppers complete online research before purchasing a product, even if that purchase is in-store. You have to know what customers are saying about you and responding can help show you care about the customer and their experience with your organization.
Support for Building a Marketing Plan
If you're ready to build a marketing plan to support your new website, contact New Light Digital today. You'll get a team of experienced digital marketers ready to help you take your marketing to the next level.
Further reading: